Make a Splash with Our Enchanting Little Mermaid Charm Bracelets!
Are you ready to dive into a world of style and enchantment? Our Little Mermaid Charm Bracelet Collection is here to make your dreams come true! This stunning collection is inspired by the magical world of mermaids and features an array of beautifully crafted charm bracelets that will transport you to a world of underwater wonder. From shimmering pearls and sparkling crystals to delicate seashells and intricate mermaid tails, each bracelet is a true work of art that will add a touch of whimsy and elegance to any outfit. Whether you're a fan of the classic Disney movie or simply love all things mermaid, our Little Mermaid Charm Bracelet Collection is sure to capture your heart and leave you feeling like a true sea goddess. So why wait? Dive into style today and discover the magic of our enchanting collection!
Designed and meticulously crafted each little mermaid charm bracelet creation is a testament to everlasting beauty handcrafted in never-tarnishing stainless steel.  Crafting the perfect charm bracelet is an art that took over 24 years to perfect.   
Creating the Perfect Little Mermaid Charm Bracelet!
Captivating Vintage Images are at the heart of Dea's Little Mermaid Charm Bracelet.  Searching for just the right images that were created over 80 years ago takes her on a journey through vintage magazines, postcards, and advertisements leading to images that captivate the imagination of lovers of the story of the Little Mermaid. These whimsical adornments transport us to a world of fantasy, where graceful mermaids dive into the depths of the ocean, their tails shimmering with a hint of mystery. From seashells and starfish to anchors and seahorses, the hand-selected images are photoshop in just the right color pallette to infuse each piece with a nostalgic charm that evokes memories of days at the seaside and carefree summers in the sun.  Dreaming of living under the sea with a beautiful sparkling mermaid tail.   Every charm tells a story, capturing the essence of the little mermaid magic.
How Many Mermaid Charms?
Charms, Charms, and more Charms!  With over 30 Mermaid silver charms they fill the heart of the Little Mermaid Charm Bracelet.  From starfish, treasure chests filled with gems and pearls, mermaid holding stars, sitting on clam shells, Neptune with his staff, seahorses, and flounder while exploring the ocean depths make these handcrafted mermaid charm bracelets one of a kind only to be found and created by Dea Shelton from Blackberry Designs Jewelry.  
What is a Little Mermaid Bracelet without sparkles?
What is a Little Mermaid Charm Bracelet without the under the sea sparkles and soft pearls!  Sparkling Austrian Crystals add an extra touch of glamour to the little mermaid charm bracelet, their dazzling brilliance dance in the sunlight just like the magical mermaids tail.  Carefully chosen in the ocean colors of tanzanite and erinite for the greens, purples and blues, the sparkle of the ocean seas are expertly set into never tarnish silver settings surrounded by ocean bubbles and the crystals mimic the mesmerizing sparkle of sunlight dancing on the ocean's surface.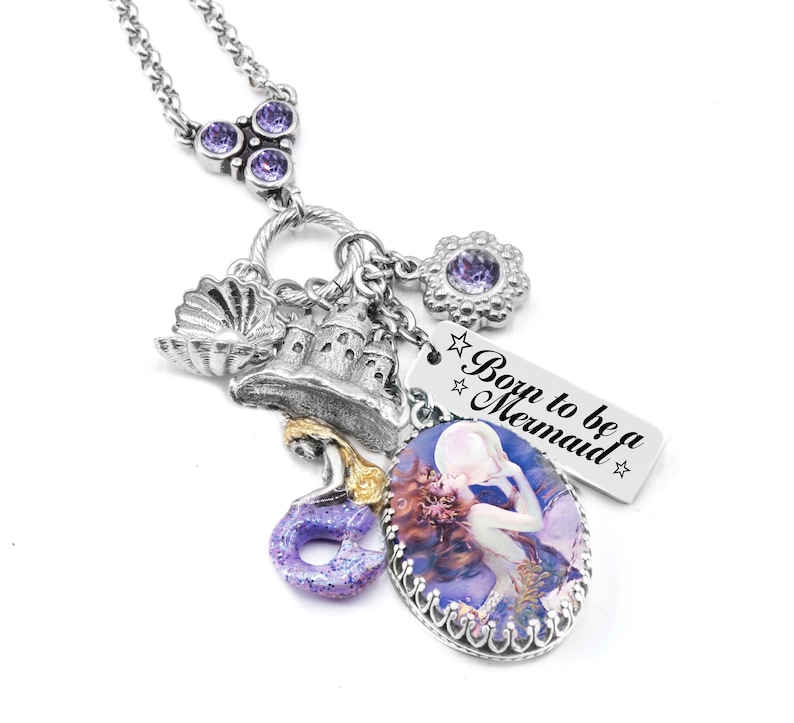 Hand Enameled Mermaids for the Perfect Fun & Colorful Bracelet!
A perfect whimsical popup of color to the perfect Little Mermaid Charm Bracelet.  The hand painted enameled charms are truly unique as they are handcrafted with French Enameling, adding a touch of whimsical fun and artistry with a pinch of elegance for the perfect
Little Mermaid Charm Bracelet
. I take great care in ensuring a perfect color match between the enameling powders, the images, and the crystals. With the precision of an artist, I hand paint each charm and seal it, guaranteeing its longevity for years to come. It's the perfect finishing touch to your favorite charm bracelet, adding that extra special sparkle!
What is a charm bracelet without some fun sayings and words?  My Little Mermaid Charm Bracelet distinctive feature is the inclusion of engraved charms, allowing for personalization and adding a heartfelt touch to each piece. Whether it's a significant date, a meaningful word, or a name cherished by the wearer, these engravings turn each item into a cherished keepsake, a reminder of special moments and cherished connections to make your Little Mermaid Charm Bracelet one of a kind.  This personal touch elevates your jewelry from a mere accessory to a symbol of love, fun and playful days at the beach.
Jewelry that lasts longer than that old 1970's refrigerator! 
Uncompromising Quality: Never Tarnish Stainless Steel, while style and aesthetics are essential, Dea believes the lasting quality of jewelry is equally important. That's where never-tarnish stainless steel steps in, ensuring that these mermaid-inspired creations endure the test of time. Dea Shelton's dedication to using only the highest quality materials guarantees that the jewelry remains lustrous, resists tarnishing, and maintains its original beauty for years to come. The durability of stainless steel ensures that these treasures can be passed down through generations, becoming heirlooms that carry stories and memories for years to come.
 Dea Shelton the artist behind Blackberry Designs Jewelry!
The Artistry of Dea Shelton of Blackberry Designs Jewelry: Behind every Little Mermaid Charm Bracelet lies the heart of an artist and passion to create the most perfect charm bracelets.  Comfortable, long lasting, colorful and fun, with a pinch of whimsy, this is the heart of Dea Shelton, the mastermind behind Blackberry Designs Jewelry. With over 32 years of experience as an integrative artist and a God-given talent for design, Dea brings to life the essence of The Little Mermaid through her jewelry creations. Each Little Mermaid Charm Bracelet piece is meticulously handcrafted, reflecting her commitment to detail and her unwavering dedication to delivering jewelry that exudes elegance, nostalgia, and timeless appeal.
Colorful & Playful Jewelry to Renew Your Sense of Fun and Joy!
The Little Mermaid Charm Bracelet handcrafted with charms, vintage images, sparkling crystals, hand painted Mermaids and engraved charms offers playful and colorful jewelry to renew your sense of fun and joy.  Designed by the talented Dea Shelton of Blackberry Designs Jewelry, this Little Mermaid Charm Bracelet is one of her captivating pieces that capture the everlasting beauty of mermaid magic while boasting the enduring quality of never-tarnish stainless steel. With each creation, Dea weaves a story, creating wearable works of art that celebrate everything that makes you fall in love with her designs. 
SIGN UP & SAVE!